Blog All

> How charity: water changes lives through multimedia
How charity: water changes lives through multimedia
With more than 1.3 million Twitter followers, 210,000 Facebook likes, and an extremely accessible and interesting blog called the charity: water log, the organization charity: water has successfully tapped the social media well, so to speak. We wanted to feature charity: water here because it is a nonprofit leader in social media and also because it embodies what it means for an organization to embrace all things multimedia.
charity: water uses multimedia to express heartfelt, character-driven stories about people affected by the water crisis.
Stunning visual storytelling is the key to charity: water's remarkable social advocacy and online fundraising success. In just five years, charity: water has brought clean, safe drinking water to more than 2 million people in 19 developing countries.
Mo Scarpelli, charity: water's multimedia producer, recently sat down with me and shared some secrets to their success. Some 70 percent of their contributions come from online donations and online fundraisers, so it's no wonder the organization puts so much love into its digital efforts. Scarpelli noted that charity: water's digital storytelling drives their success – it's how they connect and keep in touch with their supporters. It helps that their founder, Scott Harrison, is a photographer himself and loves storytelling.
Who do they reach?
charity: water uses multimedia to express heartfelt, character-driven stories about the water crisis and the projects their donors are helping to support. A great example is their Birthdays Campaign Video that drives home the message of how easy it is for supporters to help. Scarpelli explained that given the wide selection of content available online, website visitors are likely to tune out if their visuals are not compelling and professional looking. Crafting stories in an interesting way that people can connect with has really paid off for the organization and the people it serves.
Their most engaged supporters – their fundraisers – are inspired by and kept updated with stunning multimedia in the Stories From The Field and Campaigns To Watch sections of their website. To date, charity: water has shared 20-30 carefully crafted videos on their blog that highlight projects and the work of its donors. These videos drive home the message – about diseases from untreated water, of a woman with baby on her hip talking about the well saving one of her children and how a well enables young girls to attend school when they would otherwise have to be spending hours searching for water.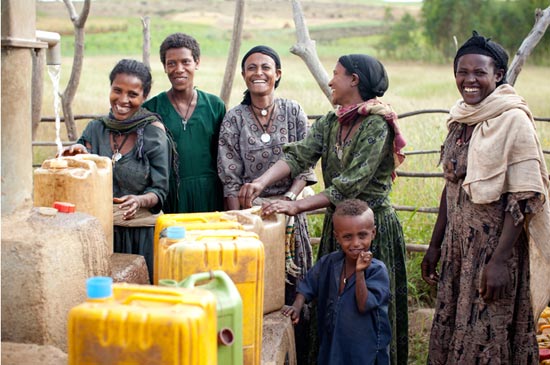 While they admit that video is what moves people the most toward their mission, charity: water's use of still photography also brings to life many of their stories online, in print and at events. However, one of their widest reaching uses of still photography is through their Photo of The Day, a series of beautiful images accompanied by short updates designed to reach their 1.3 million Twitter followers. Supporters who want to stay connected to the charity's work on a regular basis can count on a captivating Photo of the Day tweet every afternoon.
charity: water's annual September campaign trailer video housed on their home page engages supporters across all channels. Scarpelli emphasizes that everyone at the company – from accountants to web developers to their founder – are enlisted to share this high-traffic video with their personal networks and to help grow support for their cause.  This strategy has proven very successful in getting tens of thousands of video views on the launch day.
May 6th, 2013